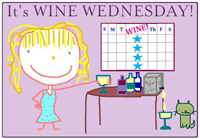 My lovely pal Alana over at
Life on the Mom List
hosts a fun series called Wine Wednesday every week and this week she asked me if I wanted to participate! Of course I said yes because hello? I haven't drank in about a month and it was time to get SAUCY!
Here's how it works:
I drink cheap wine

I tell you about it

I get drunk and take innappropriate pictures
Sounds fun, right? I chose to review my all time favorite wine, Barefoot Moscato. This is a dessert wine found at Target and most grocery stores. I typically like white wine (the sweeter the better) so Moscato is the perfect choice! You can buy this wine at Target for only $5.99 (and if you're anything like me, you practically live at Target anyway so #winning!) and I would DEFINITELY consider it a steal!
From the bottle:
"...a sweet wine with delicious mouth-watering flavors of juicy peach and apricot. Hints of lemon and orange citrus compliment a crisp, refreshing finish."
This wine is delicious! It has a very light, crisp taste and it goes down really smooth leaving a sweet taste in your mouth. To me it smells like apples and SUNSHINE! It is definitely my favorite Moscato out there and you literally can't beat that price! Moscato is best paired with fruit or dessert or even spicy Chinese food for a cozy night in. Try it with a snack of apples and cheese or a cupcake (both of which I had today... don't judge me) and you won't be disappointed. I would recommend this wine for a girls night or even to have with a nice Sunday brunch!
I give this wine 5 out of 5 corks because it's delicious and cheap (like all the great things in life are)! Now go try this wine and let me know what you think! And don't forget to check out Heather, Lindsey, and
Alana's blog
for more Wine Wednesday fun!